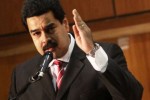 On Monday, the National Electoral Council (CNE) proclaimed Nicolas Maduro as the elected president of the Republic in the presidential elections on Sunday, getting 7,563,747 votes, equivalent to 50.75% of the vote.
The president of the Electoral Power, Tibisay Lucena, said the anti-Chavez former presidential candidate Henrique Capriles, won 7,298,491 of the votes, representing 48.97%.
(Taken from AVN)
Nicolas Maduro Denounces Coup Plans in Venezuela
Venezuelan constitutional President Nicolas Maduro denounced on Monday that right-wing circles are hatching a coup in the country.
During a press conference on Monday afternoon, opposition candidate Henrique Capriles announced a series of protest actions aimed at not recognizing the will of the majority and at demanding a manual re-count of the ballots.
Nicolas Maduro won the presidential elections with 50,75 percent of the vote against 48,98 percent garnered by Capriles.
Majority is majority and must be respected in democracy; you are not supposed to go over the people´s sovereignty…such action has one name only: coup. Those who intend to damage the majority in democracy are only calling a coup, said Maduro during his proclamation as Venezuelan constitutional president by the National Electoral Commission.
(Taken from RHC)