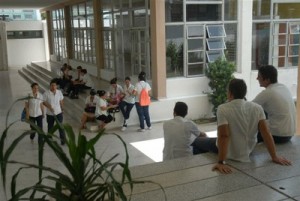 Nearly twenty South African students are to attend the first year-course in Sancti Spiritus's University of Medical Sciences (UMC, in Spanish), said José Rodríguez Zúñiga, major expert of the institution's statistics group.
They all intend to carry out specialisation studies in the field of medicine. Most foreign students choose this speciality out of the several others in which over 500 overseas undergraduates are enrolled.
Nursing, imaging, medical radiation, and health information system are just some of the medical specialities in which foreign students are taking courses as part of the cooperation agreements signed between Cuba and nations from Latin America, Asia, and Africa.
Guatemala, Honduras, Dominican Republic, Bolivia, Costa Rica, Peru, Venezuela, Chile, Paraguay, Tanzania, Congo, the Sahrawi Democratic Republic, and Pakistan are the most represented countries.