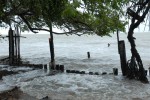 Economists from Sancti Spíritus developed a research with concrete proposals to mitigate the effects of climate change in the coastal community of Tunas de Zaza in Sancti Spiritus, a geographic area vulnerable to the ravages of nature, especially the sea floodings.
The study, entitled "Proposal for the creation of financial funds in response to the threats and impacts of climate change" corresponds to the Guidelines of the Economic and Social Policy adopted at the Sixth Party Congress in regard to tax strategies, planning and land use programs.
The idea, whose author is Edilio Mursulí Gil, Director of Economics and Planning in the province, suggests the development of a financial scheme from municipal tax funds to support the Community Planning in order to attend health purposes and Climate Change threats.
This research does an analysis of the current situation with the factors that influence on the problem, it also proposes the accumulation and approval mechanisms for redistributing taxes intended for Local Development to be used in addressing these effects and natural hazards, and identifies other non financial factors influencing the application of the proposals.
The study concludes that while climate change is a global phenomenon, in a gradual and constant acceleration, local governments are responsible to create the conditions to minimize their effects.
It therefore recommends that the Guidelines Implementation Group analyses the advisability of establishing a fiscal policy of tax or tribute at community level over the gross sales of all institutions based in the locality, which could range between 1 and 4 percent
It also proposes to analyze the possibility of giving to the municipal assemblies the task to address part of the Local Financial Fund to confrontate the damages and threats of climate change in the medium and long term, and that the Ministry of Economy and Planning and the Institute of Physical Planning ensure methodologically Spatial Planning in the strategic integration of a sustainability excellence.