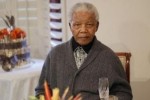 The 94-year-old former South African president Nelson Mandela's condition remains "unchanged," the Presidency said on Monday morning.
"Mandela remains in hospital, and his condition is unchanged," the South African Press Association quoted the Presidency's statement as saying.
Early Saturday morning, Mandela who stayed in his residence in Johannesburg was admitted to hospital in Pretoria for urgent treatment with the serious lung infection.
The Presidency on Monday said President Jacob Zuma reiterates his call for South Africans to pray for Mandela during this time.
It was the first official update for information of Mandela's health following his three-night stay at the hospital.
Mandela has been admitted to hospital three times in six months. On March 27, he was hospitalized after doctors diagnosed him of having pneumonia.
He was sent to hospital in December for the recurrent lung infection.
Mandela suffered from tuberculosis when he was incarcerated for 27 years before the apartheid ended in 1994.
He was the first democratically-elected president in South Africa, having an honor of the state father in the country.