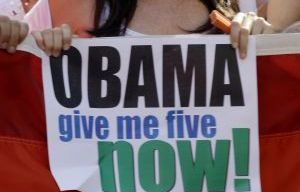 More than thirty nations will be represented at the multinational Gala for the release of the four Cuban anti-terrorists incarcerated in federal prisons in the United States to take place today at the University of Medical Sciences, Dr. Faustino Perez Hernandez, in Sancti Spiritus, a central province in the island.
The gala, held in the context of the international campaign for the release of Gerardo Hernandez, Antonio Guerrero, Fernando Gonzalez and Ramon Labañino is promoted by the Committee of Solidarity with the Five in the territory.
The Saharawi Medicine student of fifth year Abdalahe Mohamed Cheij, chairman of the Committee, explained that a special request will be done to President Obama in the university rendezvous, so that he honors his Nobel Peace Prize and changes the hostile policy of his government towards Cuba and to the case of the Five .
The multinational gala for the release of these heroes of the Republic of Cuba also will become a tribune to denounce the terrorist actions promoted by successive U.S. administrations against the island for over 50 years.
The university students from 33 nations, who are currently trained in the province, in coordination with the Cuban Institute of Friendship with the Peoples, in Sancti Spiritus, perform different actions of solidarity within and outside the country to break the wall of silence that prevents knowledge of the case, one of the longest in American judicial history .
On September 12, 1998, five Cubans were imprisoned for infiltrating terrorist organizations based in southern Florida to prevent criminal acts against the island. Due to a rigged and dirty trial, four of these patriots still serve unjust sentences that reveal the intransigent policy of the Government of the United States against Cuba .
Rene Gonzalez, who is in Cuba after fully complying 15 years in prison and a process that led to the loss of his U.S. citizenship, has expressed that he would not feel completely free until his four brothers are back in the country with their families.