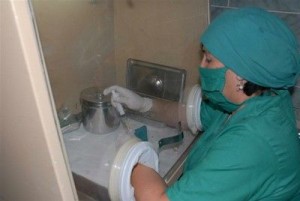 Over 2 300 cancer patients have been so far treated this year at Camilo Cienfuegos General Hospital's chemotherapy room, in the central Cuban province of Sancti Spiritus.
This ward, which was reopened a little more than 2 years ago, cares not only for local patients, but also for those from nearby territories like Ciego de Avila, who come to the hospital for outpatient treatment.
Malignant tumours in lung, prostate, and colon are among the most frequent pathologies treated in Sancti Spiritus's hospital, once the patients are referred there from an oncologist clinic.
Beside the ambulatory therapy, patients are submitted to a daily evaluation of the disease. According to experts' opinions, this treatment allows some of them to heal totally —mostly when therapy is applied in the first stages of the illness.
Nearly 1 000 malignant disease cases are diagnosed every year in Sancti Spiritus. This constitutes the first cause of death in this territory for over a decade now.