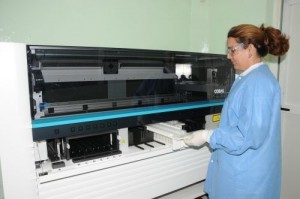 Since the technology was launched in 2010 to date, more than 4700 samples were processed in the laboratory of the Camilo Cienfuegos Provincial General Hospital, where the only existing equipment in the central region is located.
The installation of AmpliaPrep COBAS Taqman 48, modern molecular biology equipment, has made a breakthrough in the treatment of HIV, as it has allowed determining more accurately the approximate amount of the virus that is circulating in the plasma of seropositive patients.
According to Alioska Suarez Casals, B.S. in Microbiology, the procedure for determining the viral load-undergone by HIV-diagnosed people-enables not only to monitor antiretroviral treatment, but also to predict the clinical progression of the infection and estimate the risk of transmission, especially the materno-fetal.
"Hence the examination must be performed-explains the source- twice a year, but if the patient has a relapse or there is a new diagnosis, then it is made more frequently. However, HIV-positive pregnant women are examined every three months".
From this laboratory test, novel procedure that previously benefitted patients only in Cuba's capital, the medical treatment of patients is reset and checked for the disease's progression.
According to global statistics, this is an expensive examination, as the price of 48 viral load samples round the 500 euros.