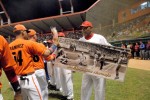 June 11th, Tuesday 8:15 pm (local time) marks the beginning of the 52nd Cuban Baseball National Season great final between Crocodiles and Orangemen.
The Victoria de Giron Stadium in Matanzas province will host the first two games in which Joel Suarez and Freddy Asiel Alvarez must be the starters for locals and visitors respectively.
The subseries is expected to be as heartbreaking as the semifinals, with the addition of the rivalry between the also known as Leopards and their former coach and compatriot Victor Mesa, now manager of the western province's baseball team.
Villa Clara bases its game on its superb pitching and great defense while Matanzas depends on its combative spirit and its leadership.
Both squads played eight encounters during the 52nd season which tipped the balance 5-3 to the team from the center of the island.