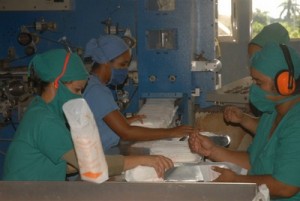 Sancti Spiritus labor unions discuss the Draft Labour Code
Popular consultations are taking place today in the more than 3000 union branches in the province of Sancti Spiritus on the draft Labour Code Act which illustrate the wide participation in the transformations performed nationwide.
The changes in society brought about the ineffectiveness of the current Labour Code, that while protecting the rights of Cuban workers, must be tempered to the peculiarities of a restructuring economy driven under the Guidelines of the Economic and Social Policy of the Party and the Revolution.
On the changes which include the Draft Labour Code, the concerns arising in different workplaces, and how Cuban workers confront the latters, Domingo Gutiérrez Gutiérrez, general secretary of the CTC in Sancti Spiritus talked to Escambray journal.
"Of the more than 3200 assemblies provided for the process, to be completed in the first half of October, 708 assemblies have already been made  in the territory , each with a mass participation of workers, who have understood the need to change the current Labour Code because it is already obsolete.
"Cubans know their rights, hence, there were no obstacles for everyone to speak up, that explain the number of proposals for changes, deletions and inclusions on topics that have to do with increasing productivity and work efficiency, issues that have aroused interest and study by labour collectives. It should be noted that the union leaders should hear the criteria and no one votes for the proposals and suggestions, but after compiling all to be assessed by the commissions created for that purpose. "
The range of issues that have emanated says that members are aware of the document and there are enough documents to reach all the unions (6287 have been delivered across the province), but while the workers and executives have been prepared , the leaders have to do better to achieve a higher quality meetings, as the labor law today is widely scattered and there are rules that do not appear in the draft because they are included in other laws and resolutions, hence it is essential that the person leading the discussion had the best preparation for a better performance.