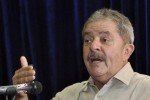 Former Brazilian President Luiz Inacio Lula da Silva called in Buenos Aires to fight for a more just world and reiterated his call to further advance Latin American integration.
Speaking at the opening of a university for workers and their children, along with Argentinean President Cristina Fernandez, Lula recalled friendly meetings he had with late presidents Nestor Kirchner and Hugo Chavez, and said their ideas are alive throughout Latin America.
Lula also referred to Brazil's progress in the field of education, with the opening of several universities and polytechnic schools, noting that over a million young Brazilians have graduated with the help of the programs implemented by the State.