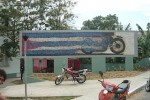 Mural made by Italian students in Sancti Spiritus to honor Che Guevara.
A new mural will be made in Sancti Spiritus by students from the Fine Arts Academy of Ravenna, on occasion of the 500th foundation anniversary of this Cuban village.
The allegorical art work, that will depict local folklore, architecture, and musical traditions, will be the second made here by students from that Italian institution. The first one was placed next to the local Jose Marti University, and was dedicated to Che Guevara and his motorcycle La Poderosa.
According to Jorge Luis Lopez Alvarez, president of the Provincial Plastic Arts Council in this territory, that first mural marked the beginning of a bilateral cultural project promoted by the Italian-Cuba Friendship Association, and activist Rodolfo Dalpane.
The exchange was continued last year, he added, when a delegation of Sancti Spiritus artists went to Ravenna to build a 75-meter long thematic mural to honor both, Italian social leader Endrigo Boldrini, and the unforgettable Commander Ernesto Che Guevara de la Serna.
Lopez Alvarez also said that the project of the next mural to be erected by local artists in Ravenna in 2015, has been already sent to Italy for approval.