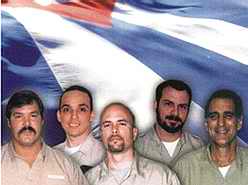 "Our solidarity will accompany The Five until they are definitely released", said in Sancti Spiritus Rodolfo Dal Pane, an Italian activist who has been awarded with the Italia-Cuba Association Friendship Medal.
By Arelis García
In statements to local press, Dal Pane denounced the cruelty against the Cuban antiterrorists, and the media silence on the case. "World awareness about the injustice committed against Gerardo, Fernando, Antonio, Ramón and René would not be convenient for the empire", he pointed out.

The Italian activist also highlighted the solidarity actions carried out by the over 4 500 members of the Italia-Cuba Association in several cities of that European country.
The Italia-Cuba Association and the Ravennate Circle were among the major promoters of the Cycle Cup against Terrorism and for the Freedom of the Five which was competed last January in Sancti Spiritus.
(Translated by Escambray)