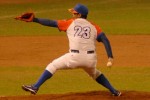 Somehow tensed up for the record he was about to achieve, Ismel Jimenez was not as dominating as expected. However, his team backed him up and the hurler from Sancti Spiritus and Cuba obtained his 100th victory in 9 national series.
Roosters' catcher Eriel Sanchez became protagonist on Wednesday night and saved his pitcher from the nervousness of the moment by going for 4-4, with 2 homers, 3RBIs and 3 runs scored.
Others who contributed greatly to Jimenez' win were center fielder Yunieski Gourriel (3-3, 2 RBI), international Frederich Cepeda (solo homer), and relievers Yaniel Sosa and Omar Guardarrama, the latter saving his 7th game in the tourney.
After the game finished, Ismel said to national and provincial media that this triumphs were the result of the hard work of many years, and the support given by coaches, friends and family, to whom he dedicated the feat.
He praised his teammate Eriel Sanchez, " a very intelligent catcher who helps hurlers a lot", and gave top priority for his next game vs. Isla de la Juventud, not to the World Baseball Classic.
Ismel Jimenez is the 4th hurler from Sancti Spiritus to reach 100 wins, as his current manager Yovani Aragon, the pitching coach Roberto Ramos and teammate Angel Peña had already accomplished it.
The player from Trinidad, in southern Sancti Spiritus, got his first victory on December 5th, 2004 vs. Santiago de Cuba, acting as reliever in 6 innings and allowing only 3 singles.