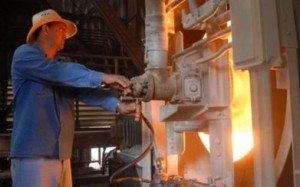 A broad investment program has been undertaken in Sancti Spiritus, central Cuba, intended to back rice production in the territory, regarded as one of the island's major rice producers.  14 million pesos were earmarked to rehabilitate industry infrastructure in order to ensure production amounts that meet the country's demands.
Sources from the local leading rice company Empresa Agroindustrial de Granos Sur del Jíbaro praised the project which, according to experts, is guarantee to foster production this year in Sancti Spiritus.
Beside purchasing agricultural machinery, and repairing roads and irrigations systems, 19 silos will be assembled this year in Las Nuevas and Tamarindo rice dryer facilities, while 10 more will be mounted in 2014 in Los Españoles's.
Empresa Agroindustrial de Granos Sur del Jíbaro plans to reach a 62,2% industrial performance in the current rice harvest, which is far beyond its historical average.