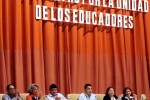 Cuban and foreign experts gathered at Havana's Pedagogy 2013 International Congress are focusing debates on the quality of Cuban Higher Education, during its sessions on Wednesday.
Wednesday's session includes a key-note lecture by Cuban Higher Education minister Rodolfo Alarcon on the characteristics of the teaching process at Cuban universities and other issues of vital importance for the country.
Physical Education is also the theme of another presentation, given the source of health and quality of life the subject entails. The issue is to be approached by the president of the Cuban Sports, Physical Education and Recreation Institute Christian Jimenez.
Meanwhile, Parliament president Ricardo Alarcon is scheduled to lecture participants on the international campaign for the release of the five Cuban anti-terrorist fighters held in the United States since 1998.
Pedagogy 2013 is being attended by nearly 3 thousand delegates from 32 nations of the world, who are sharing their experiences in an further effort to contribute to better access to education in the benefit of the new generations.