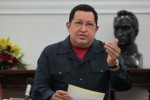 The Venezuelan National Assembly has approved a request by President Hugo Chavez to postpone his inauguration for a new term in office, which was scheduled for Thursday.
National Assembly Speaker Diosdado Cabello on Tuesday said the Parliament agreed to give President Hugo Chávez, who is in Cuba under medical observation after undergoing a cancer surgery, "all the time he needs to recover and return to Venezuela, whenever the supervening cause (preventing him from attending his inauguration next January 10) ceases to exist."
Rather than being sworn in by the legislature, he would take his oath at a later date before the Supreme Court, as allowed by the constitution.
Cabello said that "for some people" January 10 is a date set in stone for the presidential inauguration. However, he stressed that this is not the first time that the Venezuelan president is sworn in on a different date than that provided for in the Constitution. He reminded that in 2000, the Head of State was sworn in on August 19.
The government insists that the inauguration is a mere formality for an incumbent leader and can take place at a so far unspecified later date.