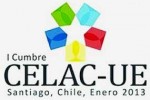 Heads of state and government from several countries begin to arrive in Santiago de Chile to participate at the First Summit of the Community of Latin American and Caribbean States (CELAC) and the First CELAC-European Union Summit.
The president of the Spanish government Mariano Rajoy arrived Thursday evening. Rajoy is expected to meet with Chilean President Sebastian Pinera.
According to the program, other heads of state to arrive in Chile over the next hours include Colombia's Juan Manuel Santos; Uruguay's Jose Mujica; Mexico's Enrique Pena, and Brazil Dilma Rousseff. They all are also scheduled to held talks with the Chilean President, PL news agency reported on Friday.
On Saturday, the First CELAC-European Union Summit will open a two-day session focusing on investment issues.
This meeting will take place amidst a scenario marked by the economic crisis hitting Europe and changes that have recently occurred in Latin America, whose leaders are demanding relations on equal grounds with other world blocs.
Meanwhile, the First CELAC Summit, a bloc founded December 2011 by all 33 independent Latin American and Caribbean nations, will open on Sunday and will conclude on Monday with Cuba assuming the pro-tempore chair of the bloc.
Summit activities began on Friday with a meeting of entrepreneurs from Europe, Latin America and the Caribbean on issues, such as investment, social inclusion and the environment.
The Architecture and Urban Planning Faculty of the University of Chile will host the Summit of the Peoples addressing subjects, such as sustainable development, environmental protection, the respect for indigenous communities and social issues.