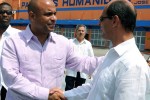 Laurent Lamothe, Prime Minister of the Republic of Haiti, acknowledged on Thursday in this capital the "enormous and unconditional help" of Cuba to the development of his people and country. Cuban aid has been huge in every sense, said the Premier in statements to the press at Havana's Jose Marti International Airport, where he was bid farewell by Deputy Foreign Minister Rogelio Sierra.
The dignitary, who concluded a two-day official visit to Havana, declared that Haiti couldn't have been able to obtain some of his current achievements without Cuba's cooperation.
He informed that new topics of cooperation, in addition to the one already existing in the spheres of public health, education and sports were tackled in the conversations held with Cuban authorities.
The PM added that it was agreed to work together in the speeding up of a network of popular community drugstores and in the improvement of the literacy teaching program, to move on to a new stage that allows to reach 600,000 people.
Lamothe expressed his great satisfaction for the results of this "visit of work and friendship with the Cuban government", a stay he described as short but intense, and "very good for the two countries".
He declared there's always a special place in the heart of Haiti for Cuba and its people.
Laurent Lamothe is also Minister of Planning and External Cooperation of the government of President Michel Martelly.