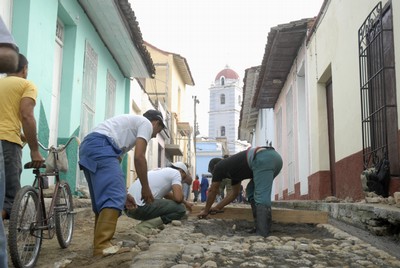 Around 30.789 million Cuban pesos have been issued in shares of restoration, conservation and construction  rehabilitation in the villages of Trinidad and Sancti Spiritus as part of programs to celebrate the 500th anniversary of both cities.
This was corroborated by Teresita Romero Rodriguez, president of the Provincial Assembly of Popular Power in this central region of Cuba during the new radio and tv local  project called Public Debate.
Romero Rodriguez said that the purposes of those more than 5000 actions have enabled not only to raise the quality of life of the residents, but to improve the delivery of various services and the urban image of both towns, founded by Diego Velázquez around half a millennium ago.
Although all agencies and organizations have contributed to such labors, Romero Rodriguez acknowledged, particularly, the work of different institutions like Culture, Communal, Trade, Food and Services, Housing, Transportation, Education, Health and Sports.
The president of the People's Power Provincial Assembly added that the push for renovation and rehabilitation actions, in general, has been supported by financial amounts provided in the plans and budgets, subject to the Guidelines of the Economic and Social Policy of the Party and the Revolution, adopted at the Sixth Congress of the organization.
Teresita Romero also called for the people of Sancti Spiritus and Trinidad, as well as institutions and government entities located in these cities to confront and eradicate social indiscipline that threaten the preservation of the executed labors.