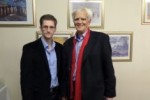 After the meeting of German parliamentarian Hans-Christian Stroebele with Edward Snowden in Moscow, politicians, artists and intellectuals demanded the government of federal chancellor Angela Merkel granting political asylum to former analyst of the US secret service.
Meanwhile, 51 representatives of politics, culture and civil society backed a declaration demanding that condition for Snowden in Germany.
At the same time, the president of the Left-Wing party, Bernd Riexinger, ratified the demand of accepting him in this country.
With these initiatives, the socialists, the greens and the social-democratic increase pressure on the government that despite of a diplomatic crisis with Washington, avoid to specifically expressing themselves in favour of the ex-technician of the US National Security Agency.
However, there are legal possibilities to bring Snowden to Germany to protect him from being extradited to US, said Riexinger in an interview with Mitteldeutsche Zeitung newspaper.
Obviously, the German government lacks political willingness to take that step, he added.
In view of the initiative of the authorities Riexinger proposed to approve a resolution of the legislative organ to obtain Snowden invitation by force, to give evidence to the Investigation Parliamentary Commission.