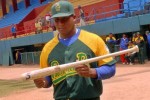 Alfredo Despaigne, the great Cuban slugger, received five bats sent by Gerardo Hernandez, one of the five Cubans unjustly sentenced in the United States. The gift to the member of the Granma baseball team for setting a record of 36 homers last season was delivered at the José Antonio Huelga stadium in the city of Sancti Spiritus, and consists of five bats; one is a trophy, two for competing and other, a smaller one, which was specially designed for the athlete's son.
In the fifth piece, which is hollow, Gerardo displayed his invincible humoristic spirit and Cuban feeling by suggesting Despaigne to use it when facing his favorite team-Industriales-and so to prevent him from hitting home runs.
Pastor Batista, a journalist who has relations with the Cuban hero, told ACN that the bats were made by Bill Ryan, a Canadian friend of Gerardo, who was asked to build this implements for Cuban children.
When I received the bats I telephoned Gerardo, who commissioned me when delivering them on his and his other four sentenced partner's behalf to congratulate all players and the people of his beloved homeland, Batista said.
A similar gift was also given a few days ago to Las Tunas powerful hitter Joan Carlos Pedroso.
Ryan's bats are certified by a Canadian factory that manufactures these implements for MLB.
Last December, the Canadian, by request of his imprisoned friend, also sent seven Cubacan bats, very similar to those he delivered now.
Gerardo Hernandez, Ramon Labañino, Antonio Guerrero, Fernando Gonzalez and Rene Gonzalez were sentenced to long prison terms in a biased trial in Miami, for fighting violent anti-Cuban groups protected by the U.S. government.