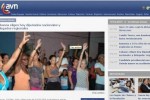 International media report on mass participation in this Sunday elections all over the island, where over eight million Cuban citizens have been call to cast their vote.
International news media have considered Cuba's February 3rd elections as an act of patriotic reaffirmation, when citizens elect those who will represent them in the governmental bodies of 15 provinces and parliament.
The participation of young people -nearly 26 000 all over the country-, the over 150 000 persons involved in the electoral process as officials in the polling stations, and the high percentage of candidates (78.43) born after January 1st, 1959, were some of the most highlighted aspects in journals like El Correo del Orinoco and Agencia Venezolana de Noticia.
Telesur web site also reproduces the mass participation event, where over 8 million citizens have the right to vote for their leaders. Since the first electoral round was carried out in the island, the multinational TV channel have shown interviews made to the members of the National Electoral Commission, in order to show to neighbouring countries, and the rest of the world, the transparency of Cuban elections.
EFE and Europa Press highlight that this Sunday elections is the close to the second stage of the island's general electoral process, which was begun last October with the appointment of the members of the municipal assemblies. They also said that a 45-day period of time follows now for the constitution of the National Assembly of the People's Power (Parliament). This body will then have to elect its presidency, and the 31 members of the Council of State.
News media that have openly opposed the revolutionary process carried out in Cuba like El Nuevo Herald, have also admitted the mass participation of people in the polls, although they continue to discredit the process because of the existence of only one party. This is an expression of their unawareness about the systematic democratic acts that occur in the Cuban society.
El Mundo, from the great Spanish media, emphasizes on what Cubans already knew since the moment in which a biographic summary of the candidates to Parliament were broadcasted by the television: that 81-year-old Raul Castro was endorsed Parliament candidate in the Santiago de Cuba's municipality of Segundo Frente, while Commander en Chief Fidel Castro, 86, was supported in one constituency from the city of Santiago.
Whether in the opinion of the left media or in the traditionally reactionary, the Cuban process shows an unquestionable fact: instead of the tension and uncertainty that corrode elections in other latitudes, in Cuba the people voluntarily go to the polls being certain that their vote counts.