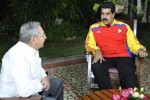 Both leaders talked about the excellent bonds between the two countries.
Army General Raul Castro, president of the Councils of State and Ministers, welcomed this Tuesday Nicolás Maduro Moros, president of the Bolivarian Republic of Venezuela, who is on a working visit to Cuba.
During the fraternal meeting, both presidents discussed about the victory of the Bolivarian-Chavista Revolution in the recent municipal elections that took place in Venezuela. They also talked about the close relations between the two governments, and referred to other international and regional issues, as well.
Venezuelan First Combatant Cilia Flores, and Cuban Chancellor Bruno Rodríguez Parrilla, were also present in the meeting.
(Taken from Granma, and translated by Escambray)