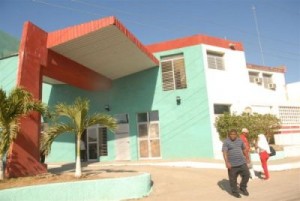 Residents of Guasimal, a rural community found about 12 miles away from Sancti Spiritus city, can obtain a wide range of advanced health services at the local polyclinic.
The outpatient facility was recently remodelled all through, which evidences the priority given by the Cuban government to patient care anywhere in the island.
Orlén Valle Saucedo, vicedirector of the rural polyclinic told Escambray that the health institution dates back to 1967, nevertheless, its areas and services have been kept in good conditions.
He added that the facility houses a well-equipped emergency department, as well as laboratory, ultrasound, dental, X-ray, ophthalmology, minor surgery, and obstetrics clinics. It also offers pediatrics, internal medicine, orthopedics, and dermatology consultations.
The rural polyclinic cares for nearly 9 600 residents from three districts, which includes people living in Paredes, Mayabuna, Guasimal, Tayabacoa, El Salao, Tunas de Zaza, and El Medano settlements.
[nggallery id=54]