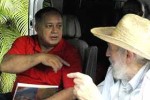 Cuban Revolution leader Fidel Castro met with visiting Venezuelan Parliament President Diosdado Cabello in Havana.
During the fraternal meeting, Fidel and Diosdado recalled with emotion the legacy of Bolivarian President Hugo Chavez and exchanged views on the objectives and challenges for the new stage of the Venezuelan Revolution, now being led by President Nicolas Maduro.
Cabello and Fidel Castro also addressed issues related to bilateral cooperation between Cuba and Venezuela and to the world food situation.
After the meeting, the Venezuelan parliamentarian and Fidel Castro took a brief tour of several local high protein-content crops.
Diosdado Cabello also held talks with President Raul Castro on Saturday about the excellent state of bilateral relations and issues related to the regional and international arenas.
Raul Castro ratified Cuba's permanent support of the Bolivarian Revolution and stressed its contribution to Latin American and Caribbean integration. He also underscored the actions by the Venezuelan leadership to give continuity to the project of President Hugo Chavez and to preserve the irreversible achievements of the Venezuelan people.
The meeting between Raul Castro and Cabello was attended by Foreign Minister Bruno Rodriguez.
Also on Saturday, the Venezuelan Parliament president met with the Second Secretary of Cuba's Communist Party and Vice President Jose Ramon Machado Ventura.
Cabello, who is the vice-president of the United Socialist Party of Venezuela, and Machado Ventura exchanged views on issues of common interest for their political organizations.
Machado briefed Cabello on the participation of the Cuban Communist Party in the current update of the island's economic and social model and in the implementation of the guidelines adopted by the latest Congress of the Political organization.
Cabello referred to the actions being taken by Venezuela's United Socialist Party to boost development and the consolidation of the Bolivarian Revolution.
The meeting was attended by Jose Ramon Balaguer, member of the Secretariat of Cuba's Communist Party and head of the organization's International Relations Department.