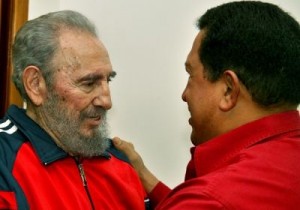 Cuban Revolution leader Fidel Castro addressed a letter to Venezuelan President Hugo Chavez expressing his satisfaction with the Bolivarian leader's health progress and return to Caracas on Monday.
In his letter, Fidel stressed the physical strength of Chavez during his recovery process in Havana and the commitment of the medical team that made his return possible.
Fidel also emphasized the permanent support that Chavez received from his relatives, his cabinet members, the armed forces and the honest people of the world, particularly the Venezuelan people, who offered their daily gestures of support.
"You learned a lot about life during these days of suffering and sacrifices. We will not have the privilege of learning from you everyday now, so we will keep in contact through the communication methods that we have used for years," Fidel said.
"We will continue to live and fight for justice among human beings, regardless of the years, months, days or hours, as we will be humbly aware that we were called to live the most critical time in the history of humanity…," stressed Fidel Castro.
He added that everything was carried out with discretion to prevent fascist groups from planning their cynical actions against the revolutionary and Bolivarian process.
The Cuban Revolution leader concluded by referring to the assistance given by Venezuela to Central and South American and Caribbean countries and for this reason -he said- all honest people of the world have closely followed the news about the health progress of President Hugo Chavez.