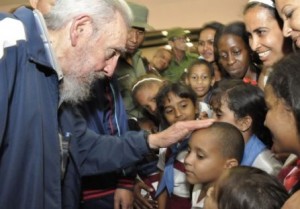 Cuban Revolution leader Fidel Castro inaugurated on Tuesday a school complex in the Havana municipality of Playa, named after Cuban heroine Vilma Espin Guillois.
The complex, raised in just 11 months on Fidel's initiative, has two teaching blocks, from the pre-school level to the sixth grade, a library and a computing lab. The school has capacity for 140 students, according to Granma newspaper.
The education complex, opened in the context of the 83rd anniversary of Vilma Espin's birthday, also includes a day-care center for 34 children, a sports area and a doctor's office.
The teaching staff is made up of 31 professionals, including a psycho-pedagogy expert.
During the inauguration of the center, Fidel Castro stressed the efforts and commitment of construction workers who, from the very beginning of the works, receive the unconditional support by military and civilian members of the personal security department.
Fidel spoke for two hours with the children, teachers, construction workers and neighbors. He addressed international issues, such as climate change, the existence in the world of weapons of mass destruction, the economic crisis and the high fuel prices. He said that these circumstances make life difficult to live on Planet Earth.
The Cuban leader also referred to local food production, the need to diversify crops to increase yield and the characteristics of the educational complex, which was inaugurated on the 160 anniversary of the birthday of National Hero Jose Marti, and the 60th anniversary of the attacks on the Moncada and Carlos Manuel de Cespedes garrisons in eastern Cuba.
The opening of the school complex was attended by members of the Politbureau of Cuba's Communist Party, such as Revolution Commander Ramiro Valdes, Army Corps General Abelardo Colome and the First Secretary of the Cuban Communist Party in Havana, Mercedes Lopez.
The ceremony also counted on the performance of Cuban trovadours, who played tunes that were followed by participants, and Fidel invited all persons present to listen to a song dedicated to Bolivarian leader Hugo Chavez, entitled "The Return of a Friend" composed and interpreted by a group of excellent artists.
[nggallery id=64]