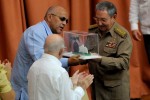 Historic leader of the Cuban Revolution, Commander in Chief Fidel Castro, was granted the Premio del Barrio by the top leadership pf the Committees for the Defense of the Revolution (CDR).
The award was received by President Raul Castro during the closing session of the 8th Congress of the CDR at Havana's Convention Center.
The Congress, which opened on Thursday, focused on crucial issues relevant to the structure and performance of the grassroots organization.
Some 460 delegates from all Cuban provinces approved the main report to the event at working strategies aimed at improving the work of the CDRs at all levels.
(Taken from RHC)