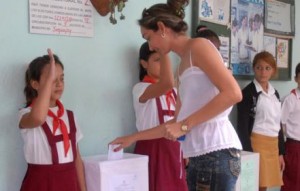 This Sunday, Sancti Spiritus, as well as the rest of Cuba, will institute the Provincial Assembly of the People's Power, to oficially start the 11th Mandate Period for that legislative body of government.
After a vote attended by more than the 91 % of Sancti Spiritus' electors, the 75 democratically elected delegates will meet for the first time and, in their own right, will take up their positions as members of the highest local state body and elect the President and Vice President.
The Assembly is invested with the highest authority for the exercise of the functions in its demarcation, and for that purpose, within the framework of its competence and in compliance with the Law, it exercises government roles, and must be renewed in a five-year term.
In order to function properly, standing work committees are constituted depending on the specific interests of the town and with the ultimate goal of exercising control and supervising locally subordinated companies, as well as of those belonging to other levels of subordination and located in its territory. The Provincial Assemblies ordinarily hold sessions at least three times a year, but may be called by the President whenever necessary.
According to data provided by the electoral authorities, it is notable the number of women among the total of delegates, as it rises to a 55 %, superior to the past legislature.
Moreover, the 50 percent of the members who make up the Provincial Assembly serve as representatives on the base and the rest are people from the political, economic, social and cultural development of the territory.
The 75 delegates and the 25 deputies to Parliament elected last February 3rd will take on a serious commitment to the country, because they do not receive special compensation for their legislative duties, but the same wages for the activities performed at the time of their election, according to their professions, exception made for those integrating executive bodies of government.
On February 24th,  the National Assembly of the People's Power will be constituted, a body that represents and exercises the sovereign will of the Cuban people through the elected representatives across the country, and whose term lasts five years.