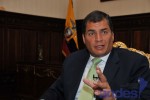 President Rafael Correa will visit Cuba next Friday, he announced Monday on his Twitter account.
Correa said he would visit construction projects in the province of Santiago de Cuba where members of the Ecuadorian Army Corps of Engineers are participating, and that he hoped to learn about Cuba's healthcare system.
Ecuador is cooperating with Cuba to rebuild two towers of Santiago de Cuba's Faculty of Medical Sciences and to build 560 homes in the Abel Santamaría district of that city, which was devastated by hurricane Sandy.
"In Cuba we will study its health programs," Correa said in his routine report to citizens on Aug. 17, expressing concern about the sustainability of the country's health services.
"Cuba has a marvellous free health service," he said.
Through his account on the social network Twitter, Correa also said that on Thursday, he planned to attend the 15th Scout Inter-American Conference in Argentina, given that the Ecuadorian government is very interested in boosting its social movements.