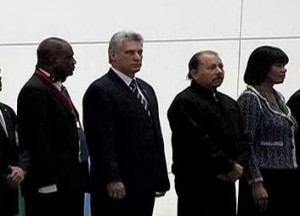 Cuba's First Vice-president Miguel Diaz-Canel in Caracas heads the island's delegation to the Summit of the Bolivarian Alliance for the Peoples of our Americas and PetroCaribe.
Cuba supports all efforts by organizations committed to Latin American integration in favor of increasing regional development and unity, said Cuba's top official Miguel Diaz-Canel in Caracas, where he is heading the island's delegation to the Summit of the Bolivarian Alliance for the Peoples of our Americas and PetroCaribe regional integration initiatives.
Such entities have played an increasingly important role, since in just nine years they have had an impact on our societies, said Diaz-Canel and he also referred to the Cuba-Venezuela integral cooperation accord, under which over 30 thousand health professionals and more than 10 000 experts in other sectors are offering their services in the South American nation.
The top government Cuban official stressed political coordination mechanisms operating under the Bolivarian Alliance, which express the bloc's position on different developments in the Americas and the world.
Diaz-Canel, who is being accompanied by Foreign Trade and Investment minister Rodrigo Malmierca and by Cuba ambassador to Caracas Rogelio Polanco, highlighted the victory of the Bolivarian forces at the recent December 8 municipal elections in Venezuela.
The Cuban first vice-president also visited an Integral Medical Diagnostic Center in the state of Miranda where he heard the experiences of the Cuban health professionals, who are working in the most vulnerable economic zones
in the territory.
The regional summit will consider a special and complementary economic zone common to the Bolivarian Alliance and Petrocaribe blocs and a future joint program with the South Common Market.
The ALBA-Petrocaribe Summit coincides with the Ninth Anniversary of the Foundation of ALBA, which gathers Venezuela, Cuba, Bolivia, Nicaragua, Dominica, Ecuador, St, Vincent and the Grenadines plus Antigua and Barbuda.
In turn, Petrocaribe counts eighteen members. They are Antigua and Barbuda, Bahamas, Belize, Cuba, Dominica, Grenada, Guatemala, Guiana, Haiti, Honduras, Jamaica, Nicaragua, Dominican Republic, St Christopher and Nevis, Saint Lucia, St, Vincent and the Grenadines, Surinam and Venezuela.