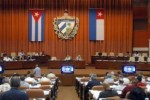 Parliament deputies, who were elected last Sunday kicked off consultations aimed at proposing the presidency of the National Assembly and the Cuban Council of State.
A similar proceeding is being carried out by the delegates to provincial governments also elected on February 3. They are to propose the officials, who will head the Provincial Assemblies of People's Power, including their presidents and vice-presidents in all territories.
As soon as the preliminary election results were released, national and provincial candidature commissions prepared for individual consultations, so that each delegate draws up his or her one proposal, according Granma newspaper.
The deputies and delegates will submit their proposals in writing for the president, vice-president and secretary of the Cuban Parliament, as well as for those who will make up the Council of State, also including the President, First Vice-president, five vice-presidents, a secretary and another 23 members.
This week provincial candidature commissions will hold meetings with all 1 269 delegates, while the consultations of the national entity will run until February 13.