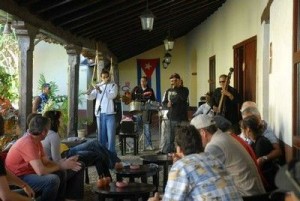 A program to enhance the authentic cultural values ​​of Cuba and the region is applied by Sancti Spiritus branch of the Extrahotel Entrepreneurial Group Palmares in the tourist region of Trinidad, among the most visited by foreigners in the Caribbean archipelago.
According to Cecilio Cantero Perez, director of operations of the entity, the network of restaurants and other units in the southern municipality concretize actions of cultural nature, which are evidenced in the presentation of groups and soloists who bring the best of Cuba's traditional and popular music to those establishments.
Cantero Perez acknowledged the consolidation of proposals in La Canchanchara Bar/Pub, a place that offers a drink unique in Cuba and which is host many times of the group Son trinitario (Trinidad's Son, the Son is a style of music that originated in Cuba) and of percussion masters.
Brunet Theatre Ruins and Ruinas de Segarte Nightclub, as well as the restaurant Plaza Mayor are also scenarios where the interests of Culture and Tourism systematically harmonize, to correspond in this way with the pronouncements of the VII Congress of the Union of Writers and Artists of Cuba.
The Director of Operations of the Palmares branch in the province, with more than 20 establishments in the tourist destination Trinidad, praised the cultural revival project of the services complex Plaza Santa Ana, home to highly demanded musical groups in Cuba, without disregarding other recreational activities for all audiences.
With units in the Valley of the Sugar Mills, Cultural Heritage of Humanity, Sancti Spiritus entity seeks likewise to increase the levels of economic efficiency, including the revenue, with a more optimal use of human and material resources and thus, raise the quality of services to both domestic and foreign customers.
The Extrahotel Entrepreneurial Group Palmares SA offers fast food services, restaurants, bars, recreational resorts and specialized trade while promoting nature and sport tourism throughout Cuba.