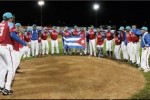 Ciego de Avila knocked out JX ENEOS of Japan 14-4 to be crowned in the 3rd World Baseball Challenge held in Prince George, Canada.
The first-placed in the 51st Cuban Baseball National Season set fire in the second inning thanks to Ruben Valdes, Isaac Martinez, Humberto Morales and Yorbis Borroto to take a 3-0 lead.
However, Asians fought back in the 3rd and 4th to tie actions, but Cubans managed to score six more times at the bottom of the 4th and finished off their rivals in the 7th and 8th.
Manager Roger Machado said: "When they really want to play these men are difficult to beat. I never doubted the triumph, not even when Japan tied in the 4th. I know my players very well and they take advantage of their rivals' gaps; today it was their pitching".
Ciego de Avila Tigers placed joyfully and cohesively along the tournament with a visible hunger for victory.
"For those who lacked confidence, here's the result. For the Cubans who followed us, for our province here's the trophy", expressed the manager of Tigers.
(Published in the author's blog cubaseballillustrated.wordpress.com)