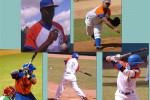 Cuba baseball team for the upcoming World Baseball Classic was ratified in a press conference held in the Latinoamericano Stadium.
The provisional 28 member squad was announced Wednesday afternoon, and it is made of 3 catchers, 7 infielders, 5 outfielders and 13 hurlers.
The roster is the following:
Catchers:  Frank Camilo Morejon Reyes (IND), Yosvani Peraza (PRI), and Eriel Sanchez Leon (SSP).
Infielders: Jose Dariel Abreu Correa (CFG), Jose Miguel Fernandez Diaz (MTZ), Erisbel Arruebarruena Escalante (CFG), Yulieski Gourriel Castillo and newcomers Raul Gonzalez (CA),  Luis Felipe Rivera and Andy Ibañez, both from Isla de la Juventud.
Outfielders: Alfredo Despaigne Rodriguez (GRA), Frederich Cepeda Cruz (SSP), Guillermo Heredia Molina (MTZ), Alexei Bell Quintero (SCU), and Yasmani Tomas (IND).
Hurlers:  Odrisamer Despaigne Orue (IND), Freddy A. Alvarez Saez (VCL), Ismel Jimenez Santiago (SSP), Vladimir Garcia Escalante (CAV), Yadier Pedroso (ART) Norberto Gonzalez Miranda (CFG),  Alexander Rodriguez Matos (GTM), Yander Guevara Morales (CAV), Danny Betancourt (SCU), Leandro Martinez (Gr), Diosdani Castillo (Vcl),  Raciel Iglesias and Wilber Perez, both from IJV.
Victor Mesa will be the manager of the team.