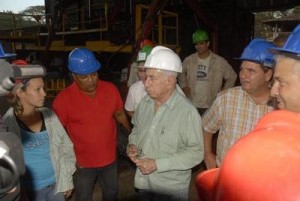 "We need rationality in the sugar harvest," said Machado Ventura during the exchange held in Tuinucu with the leaders of the sector and government in the Cuban central province of Sancti Spiritus.
The need to benefit as much irrigated sugarcane areas while accelerating the process of bringing the raw materials to the mills was highlighted Wednesday in Sancti Spiritus by Jose Ramon Machado Ventura, second secretary of the Cuban Communist Party Central Committee and first vice president of the Councils of State and Ministers.
In addressing the expectations of growth in the Cuban sugar industry, Machado put Matanzas plant Jesus Rabi as an example, as it reaches a crop yield of 75 tons per hectare and ensures 166 days of grinding.
On this issue, Juan Carlos Mursuli Merlos, director of Sancti Spiritus Sugar Company, said that the territory has planned 106 days of harvest and provides a 14.7 percent increase in the production when compared with the preceding, numbers still far from the provincial capacity but with a growing trend.
Machado was interested in the results of the sugarcane harvesting program and the use of irrigation systems through mobile reels, technology that has gained empty areas for its cultivation, especially in the sugarcane southern region in Sancti Spiritus, which is supplied by Uruguay Plant.
We have to get used to meet our plans, to say the least, proclaimed the leader, who called to seriously discuss sugarcane growth, an issue that he acknowledged, can not be solved speedily as it requires resources and above all a lot of work and discipline.
Accompanied by Jose Ramon Ruiz Monteagudo, first secretary of the PCC in Sancti Spiritus, and Teresita Romero Rodriguez, president of the Provincial Assembly of the People's Power, the Cuban First Vice President toured the industrial areas of the Melanio Hernandez, sugarmill that started up 13 days in advance, and in the recent days has leveled the ground up to the 80 percent of its capacity, efficiency indicators that exceed the expected for this time of the harvest.