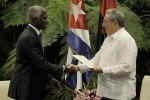 Cuban President Raul Castro received on Monday the special envoy of the Angolan head of State, Afonso Pedro Canga, who is also Agriculture Minister of that African nation.
According to Granma newspaper, during the fraternal meeting the visitor
conveyed a message from Angolan President Jose Eduardo dos Santos and
exchanged views with Raul Castro on the state of political, economic and
cooperation relations between Luanda and Havana.
The visitor will meet a working agenda in Cuba, which includes a donation to
the island of tractors and other agricultural equipment.
The meeting was attended by Cuban Agriculture minister Gustavo Rodriguez and
by acting foreign minister Marcelino Medina.