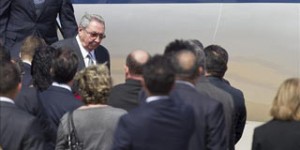 Cuban President Raul Castro arrived in Caracas on Friday, leading a government delegation to the swearing in of Nicolas Maduro as President of Venezuela.
Raul Castro was welcomed at Caracas's Maiquetía International Airport by Venezuelan Vice President for Economy and Production, Ricardo Menendez.
Other heads of state present in Caracas for Maduro's inauguration are Daniel Ortega (Nicaragua), Evo Morales (Bolivia), Cristina Fernandez (Argentina), Dilma Rousseff (Brazil), José Mujica (Uruguay), Michel Martelly (Haiti), Mahmoud Ahmadinejad (Iran), Danilo Medina (Dominican Republic) and Donald Ramotar (Guyana).