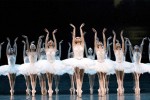 The Cuban National Ballet will premiere a pas de deux as part of a gala scheduled for September 11 at Havana's Carl Marx Theater to mark the 15-year imprisonment in the United States of the five Cubans, who were given unfair sentences after they monitored Florida-based terrorist organizations.
According to PL news agency, the public will enjoy the performance by dancer Ignacio Galindez and ballerina Amaya Rodriguez, who will stage the piece choreographed by Alberto Mendez, with the music composed by Silvio Rodriguez.
The National Ballet will also offer a varied selection of its repertoire September 14 and 15 at the National Theater, in Havana, to mark the 40th anniversary of the Cuban Center of Translation and Interpretation Services.