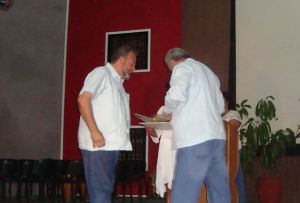 The Key to the City, one of the most cherished symbols of Trinidad, was awarded to Cuban Tourism Minister Manuel Marrero Cruz, by the Municipal Assembly of People's Power as part of the celebrations for the 499 anniversary of the founding of the town.
Since 2007, Marerro Cruz was appointed to advise on the development of the city's tourist destination, as well as the rescue and preservation of the heritage of the Valley of the Sugar Mills, for which he created a working system distinguished by consistency, rigor and creativity.
"The modest work, Marrero said, responds to the mandate of the revolutionary government and concern for the development of Trinidad so it will not miss this beautiful condition, very well deserved, of Heritage of Humanity, and is a effort to which we will devote all our resources"
Even with dissatisfaction, ideas to materialize, looming projects, Marrero leads a team that has recovered the famous landscapes in the plains that witnessed the sugar splendor during the eighteenth century, and the beginning of the preservation work in the haciendas houses and other archaeological sites in the region.
Investments in Trinidad-Sancti Spiritus tourists have also received a significant boost under the tutelage of the Minister, who thanked this key granted by the City Council on behalf of the Trinitarians, a town that has demonstrated a broad culture in tourism, to achieve full interaction between state-run and private facilities, a very special attribute of this city.
"We will use this key with a lot of responsibility along local and provincial authorities  open the doors of what we need to do, with creativity, initiative, open the doors of tomorrow, the future of the country ", Marrero added