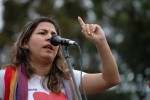 The President of the Cuban Institute of Friendship with the Peoples (ICAP), Kenia Serrano, arrived in El Salvador for a three-day official visit.Serrano will begin her visit in the city of Chalchuapa, about 80 kilometers northwest of the capital San Salvador, where she is slated to meet with government authorities and attend ceremony to pay homage to revolutionary fighter Ernesto Che Guevara.
Serrano is also expected to hold a meeting with the Secretary of Social Inclusion and First Lady, Vanda Pignato, as well as to attend an encounter with members of the Salvadoran Coordinator of Solidarity with Cuba.
Furthermore, a meeting with the President of the Legislative Assembly, Siegfried Reyes is scheduled for Saturday, when she will be taking part in several events in solidarity with Cuban in the municipality of San Marcos.
On Sunday, she will lay a wreath at the tomb of the historic leader of the Farabundo Marti National Liberation Front (FMLN), Shafik Handal, and will also meet with members of the Cuban medical cooperation mission in El Salvador.
Kenia Serrano is a member of the State Council and deputy to the National Assembly of People's Power of Cuba.