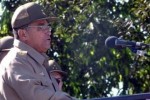 Divisional General Pedro Mendiondo Gomez, Chief of the Anti-Craft Defense and Revolutionary Air Force died on August 26 at 3.20 AM from the injuries suffered in a car accident he was involved in.
According to a press release from the Ministry of the Revolutionary Army Forces, General Mendiondo was driving his car on Sunday morning when he had the accident.
In the crash died instantly the general's father in law, and his wife and mother in law were badly hurt, as well as Mendiondo. They were taken to the "Doctor Luis Di­az Soto" Military Hospital where Rafaela Rubalcaba, the general's wife died at 6.28 PM that same day.
General Mendiondo was born August 13, 1945 in Havana, and at the Revolution Triumph joined the Young Rebels Association. In 1963, after receiving instruction in the officer's school in Matanzas he joins the Revolutionary Army Forces. He was sent to the former Soviet Union for further training in anti-craft warfare.
He made two tours in Angola, in 1982 and 1989. He was promoted to Brigade General in 2001 and to Divisional General in 2006. Since 2000 he was the chief of the Anti-Craft Defense and Revolutionary Air Force.
Following his will he was cremated and his ashes will be laid during a military ceremony this Tuesday in the Colon Cemetery, in the Revolutionary Army Forces Pantheon, in Havana city.