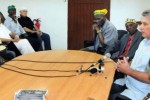 Miguel Diaz-Canel, member of the Politburo of the Cuban Communist Party and First Vice-president of the Cuban councils of State and Ministers, visited on Monday the Yoruba Cultural Association of Cuba
The top official was received by Antonio Castañeda, president of the institution.
After touring the center's museum, gallery and library, Diaz-Canel spoke with members of councils of elders, belonging to that entity, including babalawos and santeros of the island, the national television newscast reported.
On the occasion, the First VP was given details on Afro-Cuban religions and particularly about the Yoruba Cultural Association, present throughout the country.
When we see the symbols of the Association, we appreciate that we have the same purposes and interests and that we believe in human improvement, he stressed during his visit, which ended with music.