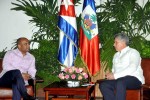 Miguel Diaz-Canel, member of the Political Bureau of Cuba's Communist Party and first vice-president of the Councils of State and Ministers received Haiti Prime Minister Laurent Lamothe, who is on an official visit to Cuba.
The two leaders exchanged views on the state of bilateral relations between Port-au-Prince and Havana and they expressed their willingness to further strengthen and consolidate such links.
Prior to the meeting, which took place Thursday morning, Laurent Lamothe was accompanied by deputy foreign minister Rogelio Sierra during a tribute-paying action to Cuban National Hero Jose Marti at Havana's Revolution Square.
Cuba and Haiti established diplomatic relations in 1904. Current cooperation takes place in important social fields, such as health and education, as well as in the construction, fishing and the metal industries.
Over 11 300 Cuban medical specialists have offered their services in Haiti since 1998 and after that country was hit by the 2010 devastating earthquake, over 400 Cuban health professionals, who were already there, played a crucial role in saving lives and fighting epidemics.
A total of 1 thousand 236 Haitian youths have graduated in different professions and trades, since this kind of cooperation started in 1961. At present, 322 Haitian students are taking higher education courses in Cuba.