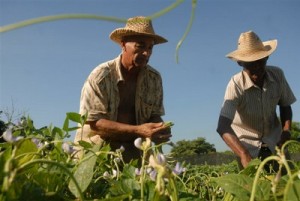 After a two-day evaluation visit by the National Group of Urban Agriculture (GNAU, in Spanish), the Cuban central province of Sancti Spiritus was found to be implementing a good production program in this respect.
Adolfo Rodríguez Nodals, head of this agricultural movement in the island, praised what has been so far done in the territory, particularly in Yaguajay. This is the only local municipality which has been graded OK in the 60 control visits received since this food program was first created.
According to GNAU evaluation parameters, Sancti Spiritus is currently ranked as the country's best, ahead of Artemisa, La Habana, Las Tunas and Camagüey provinces. Neveretheless, the territory was called to give higher priority to the use of the land, the agro-ecological management of plagues and diseases, cattle food supply, and the reforestation of the hydric areas.
Jose Ramon Monteagudo Ruiz, first secretary of the Cuban Communist Party in the province, praised the work of all those involved in this productive movement, and urged to keep on fostering the program.