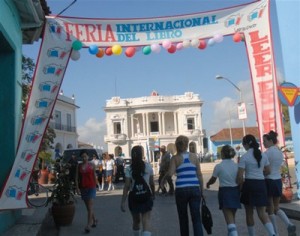 Sancti Spiritus Serafin Sanchez Park became again the literary epicenter of the Cuban central province, as the 22nd International Book Fair was inaugurated this morning while it is expected to run in the main cities of the western region until  March 3.
Dedicated to the 160th anniversary of Jose Marti's birth, to historian Pedro Pablo Rodriguez, to writer Daniel Chavarria and to the Republic of Angola, the largest festival of literature in Cuba will present a busy schedule in the Yayabo Village.
Lectures, panels, roundtables, book launches and readings of poetry and fiction by local writers and guests, such as Daniel Chavarria, Rogelio Martinez Fure, Victor Fowler, Luis Toledo Sande and Emilio Comas Paret will be included in the agenda.
Over 29,000 copies of about 300 titles are available to readers in a dozen stands and outlets enabled on the boulevard and in the Serafin Sanchez Park , areas that are also venue to most of the artistic program of the event.
According to experts of the Books and Literature Provincial Center, from Wednesday on more than 200 new books and about 70 titles of children's literature, which are always the greatest demand, are to be accesible for readers.