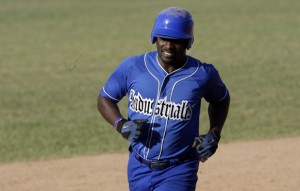 With a decisive seven-run rally in the eighth inning, the West team beat the East squad 13×9 in the All-Star Game held on Sunday in the Cuban central province of  Sancti Spiritus, and attended by Miguel Diaz-Canel Bermúdez, first vice president of the Councils of State and Ministers.
In a packed Jose Antonio Huelga stadium , Westerners came from behind to seal a triumph that allowed them to level in 13 wins apiece the historical record of these games, attended by players who are elected through popular vote according to their results in the first phase of the National Series.
The lack of control of reliever Carlos Juan Viera and homers by Havana Blue Lions Stayler Hernandez and Yasmani Tomas were key to the rally of the team led by Sancti Spiritus manager Yovani Aragon.
Prior to the game on Sunday, the final of the home run derby took place which was won by international Yasmani Tomas in tough contention with Alfredo Despaigne, who had to develop three additional tests to determine the winner after successive draws.
[nggallery id=61]