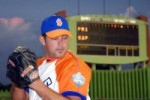 With scores 3×2 and 4×2, Sancti Spiritus Roosters beat Industriales Lions, one of the leaders of the 53rd Cuban Baseball National Season while obtaining their second subseries.After an initial Tuesday game plagued of nervousness, the baseball team from the Yayabo village managed to conquer the three-game confrontation vs. the Bluemen from Havana, thus narrowing the gap between them and the leading teams of the present championship.
Starters Ismel Jimenez and Angel Peña, and relievers Javier Vazquez and Carlos Sierra made it possible for Sancti Spiritus club to win Wednesday and Thursday matches, while bringing new emtions to the fans in this Cuban central province.
After the first 15 encounters, Roosters are placed 14th in the general standings, with a 6-9 record, but only two games away from eight teams sharing an equal balance of 8-7, among which is Mayabeque, their next rivals during Saturday, Sunday and Monday.
Yovani Aragon's players must continue winning if they want to be included among the best eight teams for the second phase of the 53rd Cuban Baseball National Season.