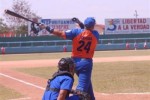 Roosters present a highly renovated team  in the upcoming 53rd Cuban Baseball National Season.
Eight newcomers will prove themselves in a squad led by Yunier Mendoza and driven by men with national and international experience such as Frederich Cepeda, Eriel Sanchez and Ismel Jimenez.
The men behind the masks are: Eriel Sanchez, Niorquel Cervantes and Yunior Ibarra (rookie); and the infield will be guarded by Mendoza, Orlando Acebey, Yordan Calaña, Yoandi Baguet, Davier Gómez, Julio Cabrera (R), Yoan Vera (R), Luis Serrano (R) and José Carlos González (R).
The outfield counts on Cepeda, Liván Monteagudo, Robersys Ramos, Dunieski Barroso, Jorge Ruiz, Javier Martínez and Dismany Ortiz (R).
The pitchers area will rely on Ismel, Ángel Peña, Noelvis Hernández, Yuen Socarrás, Yaniel Sosa, Omar Guardarrama, Javier Vázquez, Leodanys Pérez, Yohannys Hernández, Yandri Matos, Carlos Manuel Sierra, Aldo Conrado (R) and Yanieski Duardo (R).
Yovani Aragon will continue as manager of Roosters, whith Rafael Muñoz and Miguel Rojas as assistants; Carlos Pérez will be the trainer and Juan de Dios Peña and Roberto Ramos will lead the hurlers' staff.
It was great news to know of Frederich Cepeda's recovery. The athlete will start playing from the very beginning with his team after a long process of rehab due to a surgery he went through some months ago.
Sancti Spiritus will face  Guantanamo as visitors in the opening subseries of the 53 baseball season.