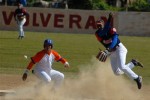 Sancti Spiritus faces Camaguey as the 13th subseries start this Friday with a tough fight for many teams involved in qualification and in crumbling to the top of the 53rd Cuban Baseball Season general standings.
Roosters, placed last with an 11-25 record, have lost seven series in a row to Cienfuegos (1-2), Santiago de Cuba (1-2), Granma (1-2), Holguin (0-3), Matanzas (1-2), Ciego de Avila (0-3) and Mayabeque (1-2).
Camaguey, positioned 14th with 13 victories and 23 defeats, won its last match vs. Santiago de Cuba 2×1, and it will try to maintain the difference towards the last squad of the Cuban baseball.
With only nine games left to end the qualifying stage, teams such as Isla de la Juventud, Matanzas, Villa Clara and Pinar del Rio fought for the top pf the standings, while others like Santiago de Cuba, Artemisa and Mayabeque struggled for the 8th seat to the second phase, with Granma and Cienfuegos still grasping.
Thus, the subseries starting today will be key as in the case of the duels: SCU-ART, HOL-MAY, PR-MTZ and CAV-VCL. In the rest will rival: SSP-CMG, IJV-LTU, IND-CFG and GTM-GR.